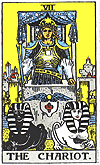 THE ARCHETYPE
OF THE LITTER
Is our daily, battle, the capacity to fight throughout, objectives and barriers, the power of conquest. The litter is associated to firmness and to the directions in which we decide to follow. Itís negative aspect in aggressiveness and competition.

---
Multiple choice questions:
---
1) Do you prefer adversaries...
a) stronger b) weaker
---
2) Which has been the greatest conquest in your life?

a) your wife b) youíre social and professional position c) your friends
---
3) Do you get int a game or dispute..

a) only to win b) stubbornness c) for pleasure
---
Dissertation questions:
---
4) When was the last lime you had a fight? What happened?

5) What's your favorite sport?
---