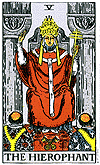 THE ARCHETYPE OF THE POPE
The Pope represents a cultural tradition and its iniciator. An ethical orthodoxy, a patterned behavior, a group of habits and values to be ritualized, the dogmas. The Pope suggests that there is an order, a rule and a rhythm, he is the conscience of repetition, the responsibility. The negative side of the pope symbolizes our rigid, sectarian and "square" posture.
---
Multiple choice questions:
---
1) Are you for or against abortion? Why?
a) against b) for c) legally for and personally against
---
2) Would you accept that your son follow a religion different from yours?

a) yes b) no
---
3) Who do you consider yourself responsible for?

a) yourself b) your family c) the whole world
---
Dissertation questions:
---
4) What law would you like to seein vigor? Anything goes.

5) Who would you take as a role model?
---