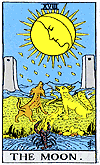 THE ARCHETYPE OF THE MOON
The Moon is a symbol of receptivity. While the Sun gives, the Moon receives. And to receive can either mean sensibility or dependency; vice, lack of autonomy, wanting and even mediunity -- according to the contest. But in all these cases, the Moon represents the more open and vulnerable side to various influences.

---
Multiple choice questions:
---
1) In which aspect do you consider yourself more dependent than others?
a) material b) affective c) intellectual d) spiritual
---
2) What is your greatest desire? What is your greatest necessity?

a) money b) to be recognized c) adventure d) to be loved
---
3) You...

a) are offended easily b) get emotional easily c) vary seldom get emotional
---
Dissertation questions:
---
4) In what moment of your life did you most need help?

5) What was your most significant dream? And your nightmare?
---