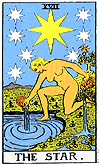 THE ARCHETYPE OF THE STAR
The Star symbolizes hope, in its positive sense (faith, certainly, trust) and also in its negative way (illusion, a deceiving desire). The Star represents still the emotional nucleus of people, the pure feeling and the effective processes.

---
Multiple choice questions:
---
1) In what do you place your biggest hope?
a) in your work b) in your spouse c) in your children d) in yourself
---
2) Do you think your childhood was happier than everybody else's was ?

a) yes, I was privileged b) no c) I had a normal childhood
---
3) If you could foresee the future, what would you ask about?

a) you and your family's health b) about the possibility of a great love
c) about your professional life
---
Dissertation questions:
---
4) What is your best memory?

5) Can we trust in what you said you'll do? How long does it take you to trust a person?
---